"What's in a name? That which we call a rose by any other name would smell as sweet."
But what is in a brand? A latte by any other name would taste as sweet and give a lovely caffeine boost, but a dozen brand features distinguish Dunkin' from Starbucks. A brand is much more than a name; akin to a person, it has its own identity, personality, values, and promises. It's brought to life by its unique messaging, colors, designs, motions, sounds, and even smells in some cases. Those experiencing it make a first impression, develop expectations and can become loyal. The perception of a brand can generate value beyond the product or business. This is known as brand equity.
For Starbucks' brand equity means selling coffee at a premium because consumers view it as an indulgence, a little bit of luxury to start their day. In contrast, Dunkin's customers are attracted to the promise of fast and friendly service. Both have found success by personifying their brand to promote an experience their consumers what to be a part of when they grab their morning cup of joe.
Starbucks and Dunkin' invested in developing the brand identity used to represent, communicate, and support their brand promise. If you're wondering how they execute and control it, you're in the right place. The answer is a brand book, a documented set of rules and standards for maintaining a company's brand identity. The book gives people in all areas of the business and outside consultants a clear understanding of how to represent the brand.
The #1 Goal of All Brand Books is Maintaining Brand Consistency
Consistency, it's what all memorable brands have in common. It's key to building brand awareness, a consumer's ability to recognize and recall a brand. But consistent branding does not stop there. It boosts brand trust, also known as brand authenticity. According to Forbes, brand authenticity is more important than ever, reporting that an astounding 90% of consumers consider authenticity a key factor when deciding which brand to support. On the flip side, inconsistent presentation and messaging can lead to confusion and mistrust, harming brand loyalty.
What goes into a Brand Book?

A brand book should include a comprehensive guide of standardizations, restrictions, and preferences. Below is a list of must-haves to include in your Brand Book.
Logo Usage
Your logo/wordmark is one of the top visual representations of your brand. Ensuring proper usage by defining variations, sizing, clear space requirements, and any other restrictions is critical. If you have a wordmark separate from your logo, be sure to include guidelines for it as well.
Below is an example from the Boy Scouts of America Brand Guidelines.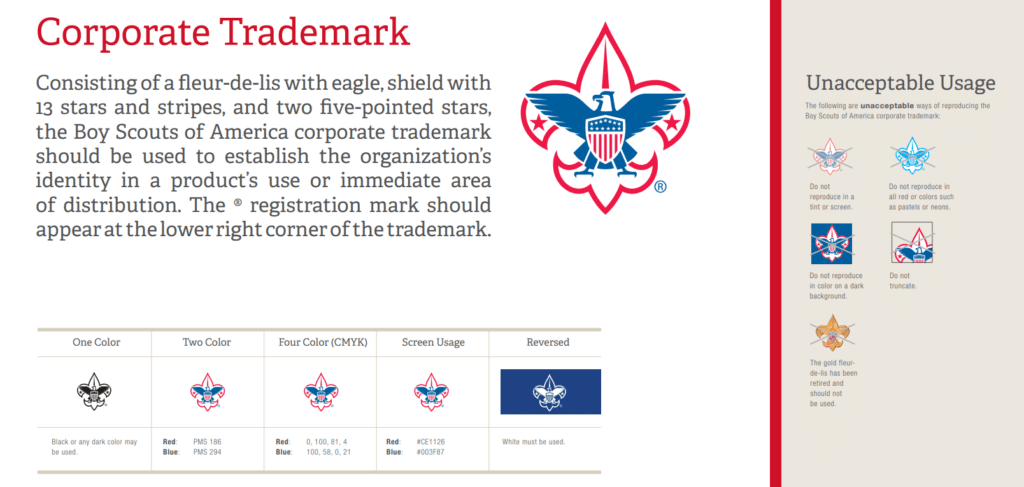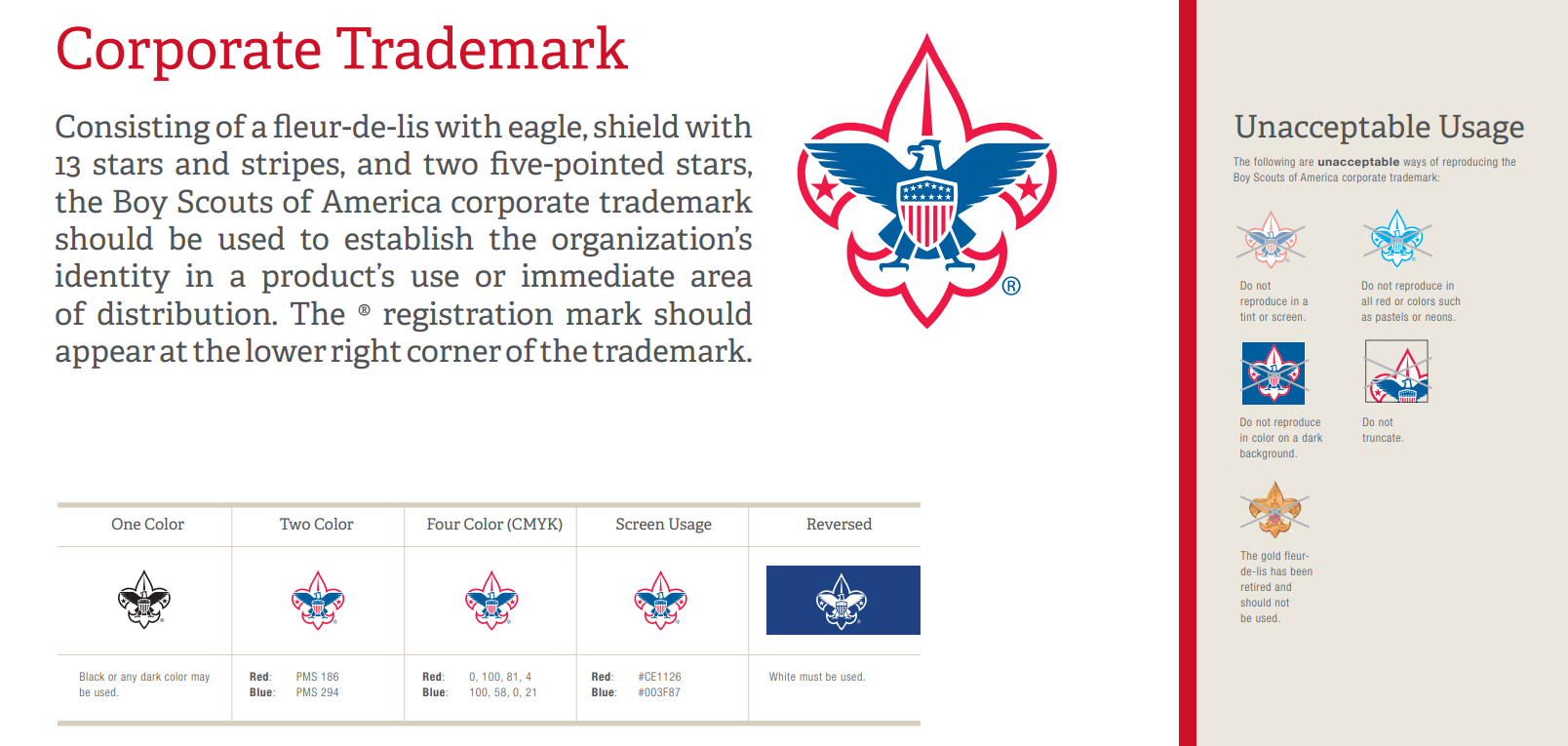 Color Palette
Brand colors work together in harmony to add depth and tie brand visuals together. Enumerate primary and secondary logo colors and include how and when to use them.
Below is an example from Kroger's website.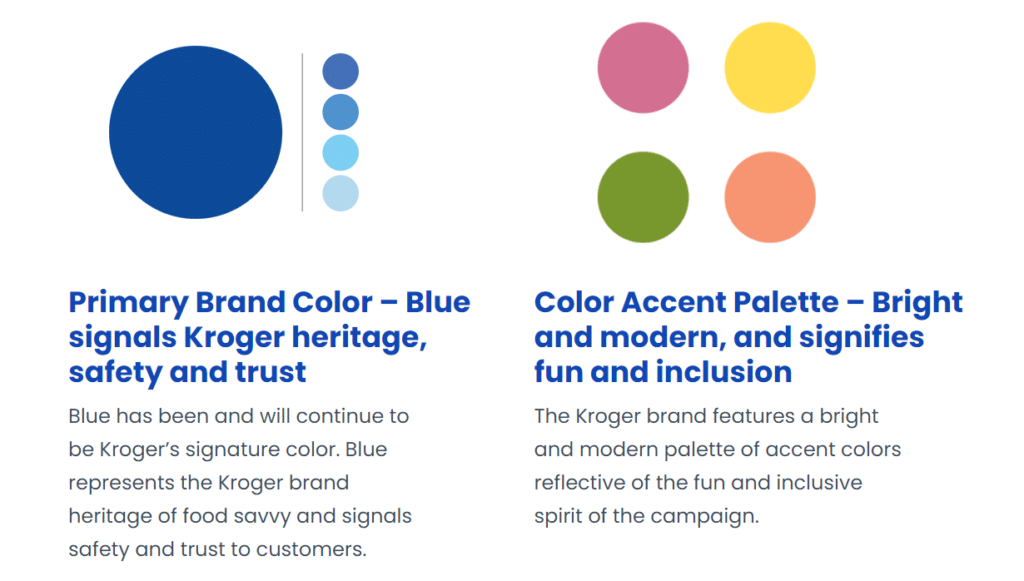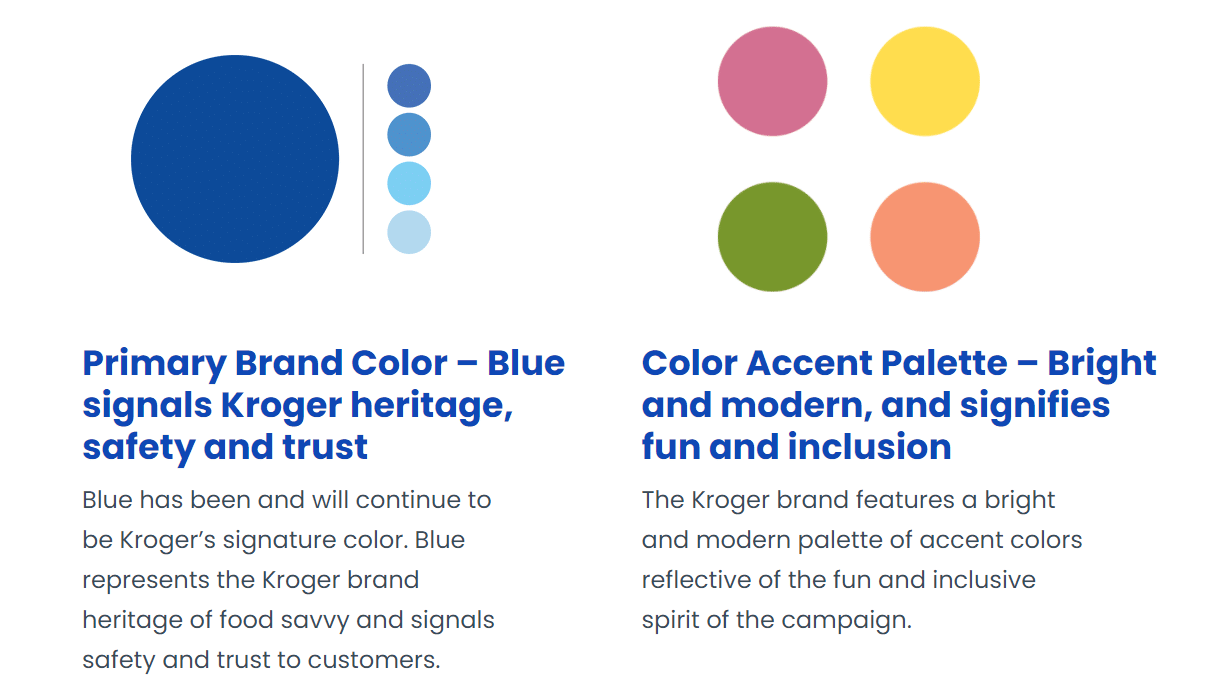 Typography

Typography extends the visual representation of your brand. Include acceptable font types and weights for headlines and body copy. It's also a good practice to include which font to use when brand fonts are not available.
Below is an example from Northern Kentucky University's Branding Guidelines and Resources.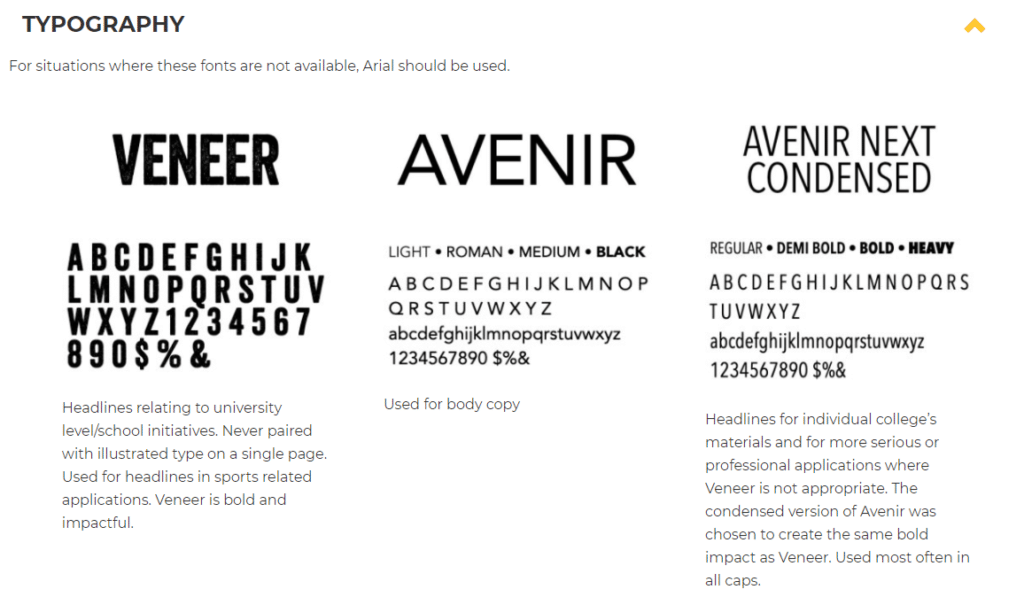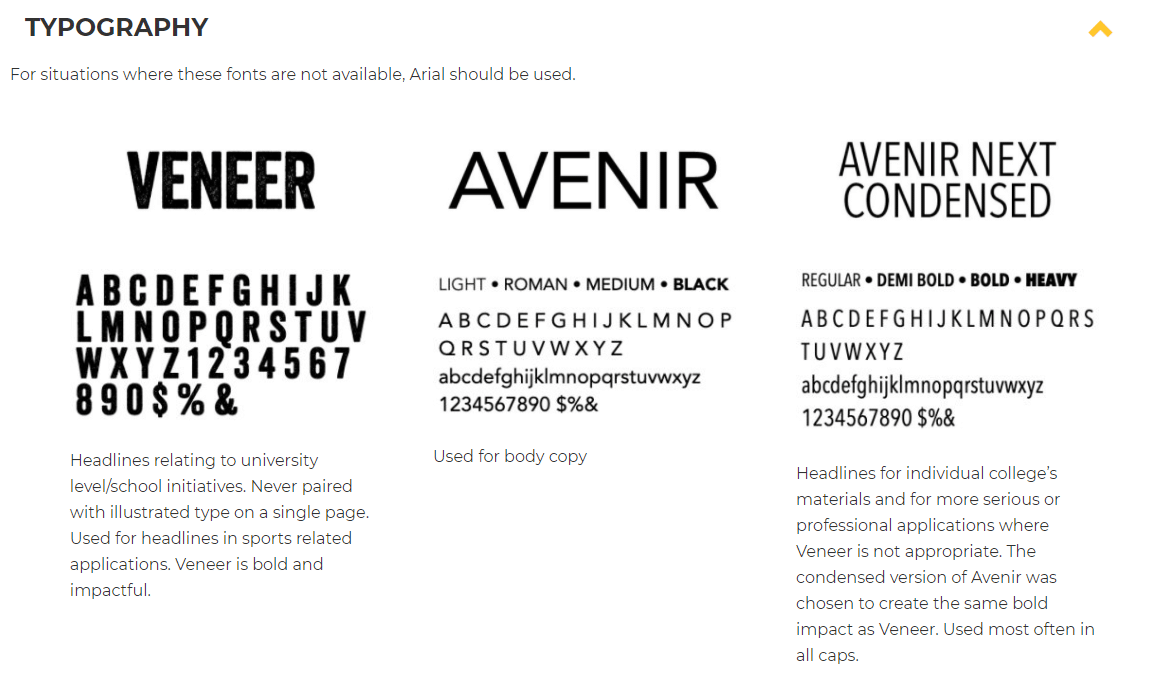 So, that covers the absolute must-haves, but it just scratches the surface. We would call this level of detail a "Brand At A Glance" document. We develop them for clients to use in their handbooks or orientation packets. It's usually the right amount of information to share with people outside of sales and marketing without overwhelming them. However, your sales and marketing team and any outside consultants you use need more to keep your brand alive and recognizable. In fact, some creatives refer to the brand book as a brand bible. It's that important.
Here are some additional building blocks to consider when deciding what to include in your organization's brand book, along with some examples:
Brand Introduction (story, mission, values, etc.),
Brand Architecture, if applicable, UNICEF USA
Content style, including tone-of-voice and messaging examples, MailChimp
Persona and personality, Slack
Photography, illustration, and icon guidelines and treatment, Hubspot
Composition guidelines, Uber
Motion guidelines, Uber
Sonic (distinctive original music created for the brand) guidelines, Ohio. Find It Here.
Branded call to actions (CTAs), Amazon
Case studies/examples, Starbucks
Brand communication samples (i.e., email signatures, business cards, etc.), Ohio Means Jobs
Links to brand assets (i.e., logo variations, photography, video, etc.)
Links to branded templates (i.e., presentations, letterhead, etc.)
If you're ready to prepare a brand book and would like some help with that, let us know. Or if reading this made you realize that your brand doesn't do all the things it is supposed to do, we can help with that too. Let's connect.
To read more about how a brand is more than a name or logo, check out Your Logo isn't Your Brand.